Full of flavor and texture, this gluten-free flourless chocolate cake will be your new go-to dessert! The smooth texture of the cake makes it an ideal base for the rich chocolate ganache glaze that tops it off, making this dessert the perfect way to end any meal. This recipe will make a great addition to your favorite recipe collection since it's super easy to make and everyone will enjoy it.
Flourless chocolate cake 
This decadent flourless chocolate cake is one of those classic, reliable chocolate cake recipes that you turn to when you want something easy but that makes an impression.  It is so rich and delicious that it also goes by the name "Chocolate Decadence".
Ingredients 
1 1/3 cups bittersweet chocolate (72% cocoa)

1 cup of butter 

1 ¼ cups sugar

6 large eggs, room temperature

1 cup cocoa powder

½ teaspoon salt

1 teaspoon vanilla extract
Method
Preheat the oven to 350°F. 

Butter a 9-inch springform pan and line the bottom with parchment paper.

In a large microwaveable bowl, melt the chocolate and butter together. 

Separate the egg yolks from the egg whites.

When the chocolate has cooled, whisk in sugar, then add egg yolks, one at a time. 

Add the vanilla extract.

Sift cocoa and salt over the chocolate mixture and whisk to combine.

In a stand mixer, beat the egg white on medium-high speed until stiff peaks form.

Gently stir a small portion of the egg whites into the chocolate mix. This will loosen up the chocolate mixture and ready it for the rest of the egg whites. Gently fold in the remaining whites until fully incorporated, taking care to maintain the air bubbles in the eggs.

Delicately pour the batter into the prepared pan.   Do not tap or shake your pan to distribute the batter.  

Bake for 35-40 min or until it is just set. 

Let the cake cool fully before removing it from the pan.

For an extra-special touch, you can top your cake with ganache or just dust it with powdered sugar.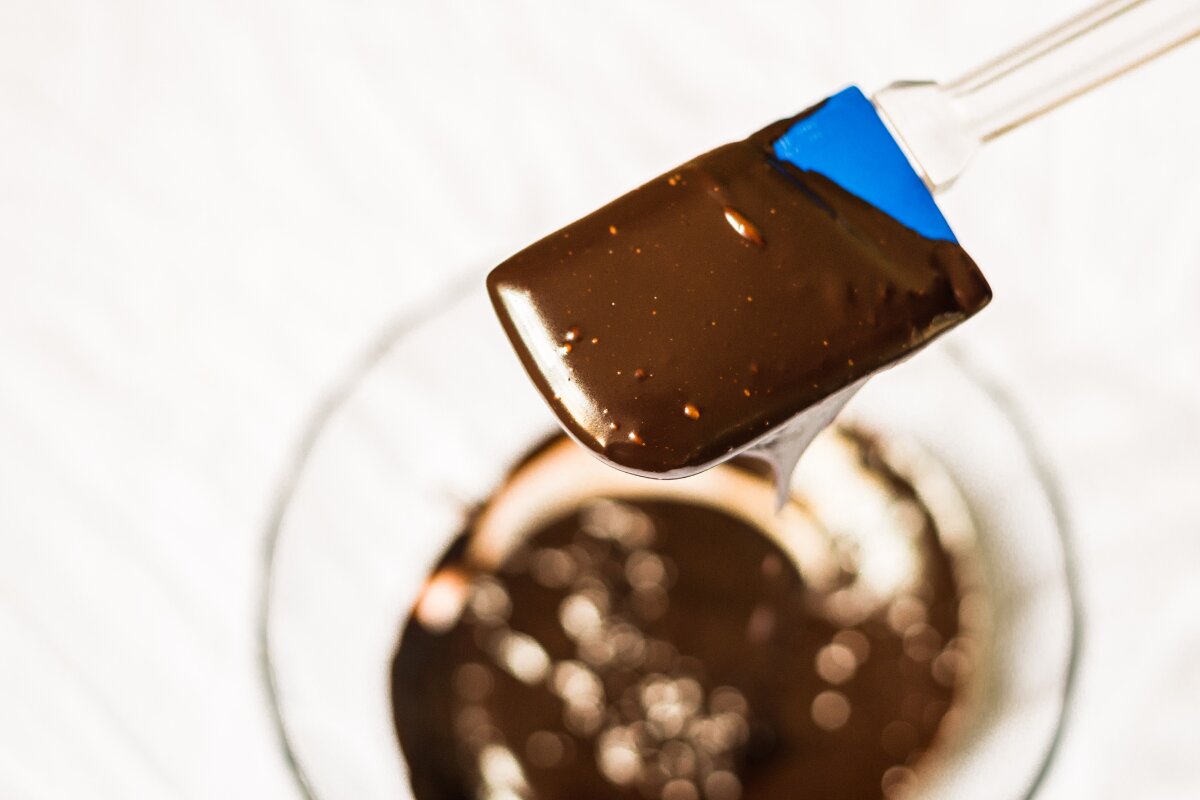 Ganache
Ingredients 
1 1/3 cups dark chocolate (72% cocoa)

1 cup heavy cream
Method 
Heat the heavy cream in a saucepan. When it reaches a simmer, take it off the heat and pour it over the chopped chocolate. Let it sit for 3-4 minutes and then whisk until the chocolate is fully melted.

Drizzle the ganache over the flourless chocolate cake. 

Let the ganache set.
Tips
If desired, garnish the flourless chocolate cake with 1/4 cup sliced almonds, toasted for about 10 minutes in a 350°F oven or until golden brown.

For the cleanest slicing, use a sharp knife dipped in hot water and wiped dry. Repeat dipping the knife in hot water and wiping dry for each slice.

You can use wax paper instead of parchment. Wax paper shouldn't be exposed to direct heat, but it's fine when used between cake batter and pan.
Flour alternative for chocolate cake
This is a great recipe for people with celiac disease, non-celiac gluten sensitivity, or those avoiding gluten for other reasons. If you are avoiding white and wheat flour but want to be able to experiment with other chocolate cake recipes, fortunately, there are a variety of gluten-free flours on the market, each with a different taste, texture, and nutrient composition that can be used as a substitute.  Here's a quick list of what's available at many stores:
Almond Flour

Buckwheat Flour

Amaranth Flour

Oat Flour

Chickpea Flour

Coconut Flour

Tapioca Flour
Some gluten-free flours have more nutrients than others, making them a healthier choice for your diet. Many gluten-free flours require recipe adjustments or combinations of different types of flours to create a tasty chocolate cake. Be sure to evaluate your recipe before you start baking.
We hope you enjoyed this recipe. For more great recipes, check out the rest of our CocoTerra blog. If you have any questions or comments, feel free to contact us through our social media channels.
If you have any questions or comments, feel free to contact us through our social media channels.  We are @cocoterra_co on Instagram and Pinterest and @cocoterraco on Twitter and Facebook.