Welcome to the sweet and savory world of chocolate charcuterie boards! If you thought charcuterie boards were just for meat and cheese, then get ready to have your taste buds blown away. We're taking the classic charcuterie concept and adding a whole new level of indulgence with everyone's favorite guilty pleasure – chocolate.
WHAT IS A CHOCOLATE CHARCUTERIE BOARD?
A chocolate charcuterie board is a dessert board that includes a variety of chocolates, nuts, fruits and other sweet treats arranged on a wood board for easy sharing. It takes inspiration from the traditional charcuterie board, which typically includes cured meats, cheeses and crackers.
Chocolate charcuterie boards are a fun and creative way to serve desserts at gatherings or parties. The boards can be customized with your favorite type of chocolate such as dark, milk, and white and include a variety of toppings, such as nuts, dried fruits and confections.
The main idea of a chocolate charcuterie board is to create a beautiful display and contrast of flavors, textures, and colors. The more creative and bold you are when arranging the board, the more visually appealing it will be. The chocolate can be paired with both sweet and savory foods, so have fun with it and we are sure it will impress! 
CHARCUTERIE BOARD ORIGINS
The charcuterie board is a culinary tradition that originated in France. The word "charcuterie" comes from the French words "chair" (meat) and "cuit" (cooked), and it refers to the preparation of meats such as ham, sausage and pâté.
For centuries, people have served a selection of cured meats and other accompaniments on a board. The tradition dates back to medieval times when farmers would gather together to share their harvests and trade goods. Over time, charcuterie boards became a popular way to serve meats and other appetizers at gatherings and social events.
Today, charcuterie boards are very popular among foodies. People can choose from a variety of meats and cheeses for their boards, or they can make vegan, gluten-free and sweet board variations.
HOW TO MAKE A CHOCOLATE BOARD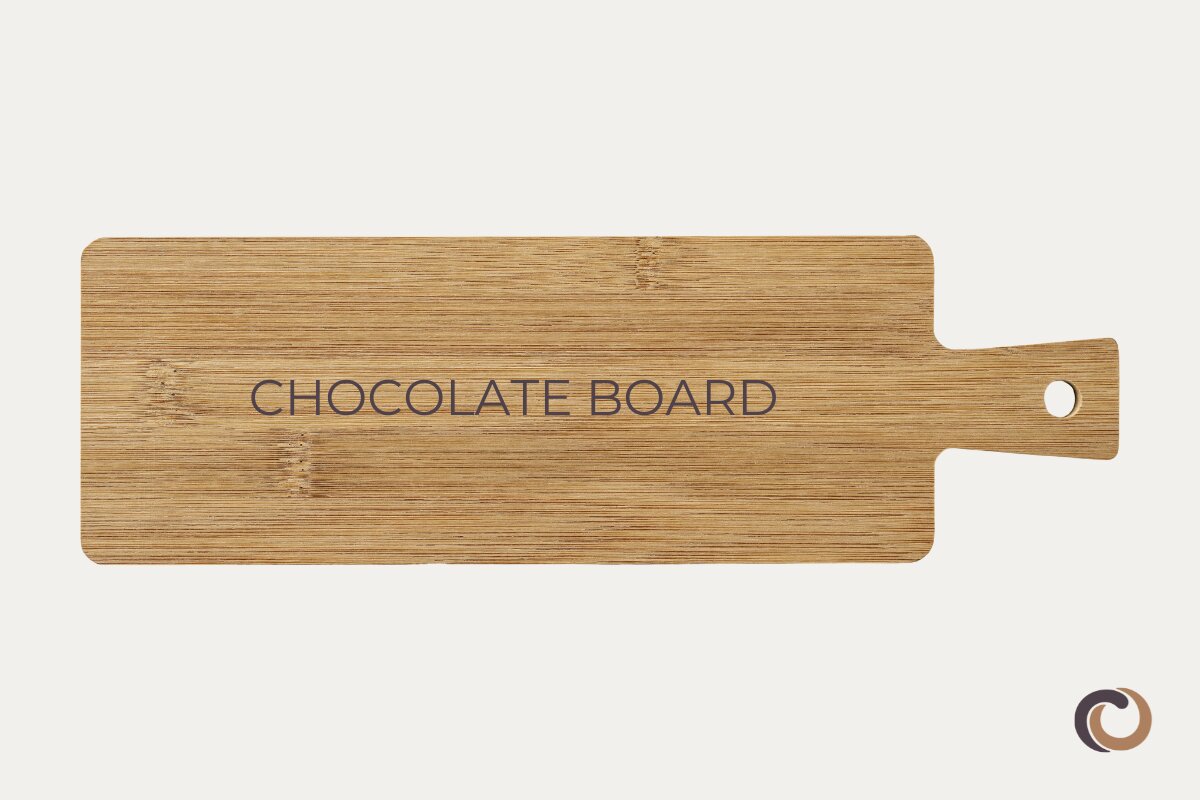 To make a chocolate charcuterie board at home, start with a variety of chocolates in different flavors and textures, such as dark chocolate, milk chocolate, and white chocolate.  Try ruby chocolate for a visual pink pop. 
You can also include other sweet treats like truffles, chocolate-covered fruits and nuts. You may even want to add some traditional accompaniments to your board, such as fresh fruit, cheese or crackers. These will provide a nice contrast to the flavor of the chocolates and add a variety of options for your guests.
Next, choose a serving board or platter that is large enough to accommodate all of your treats. Wooden cutting boards work well for chocolate charcuterie boards, but marble slabs or slate platters also look nice. Arrange your chocolates and other treats on the board in an aesthetically pleasing way, making sure to mix up the flavors and textures.
When serving your chocolate charcuterie board, keep small plates and utensils on hand so that your guests can easily sample the different treats. Include a few bowls of toppings or spreads, such as peanut butter or caramel sauce, to enhance the flavor of the chocolates.  You might even serve chocolate fondue which would be a nice accompaniment to your chocolate charcuterie board.
BEST CHOCOLATE TYPES FOR A CHOCOLATE CHARCUTERIE BOARD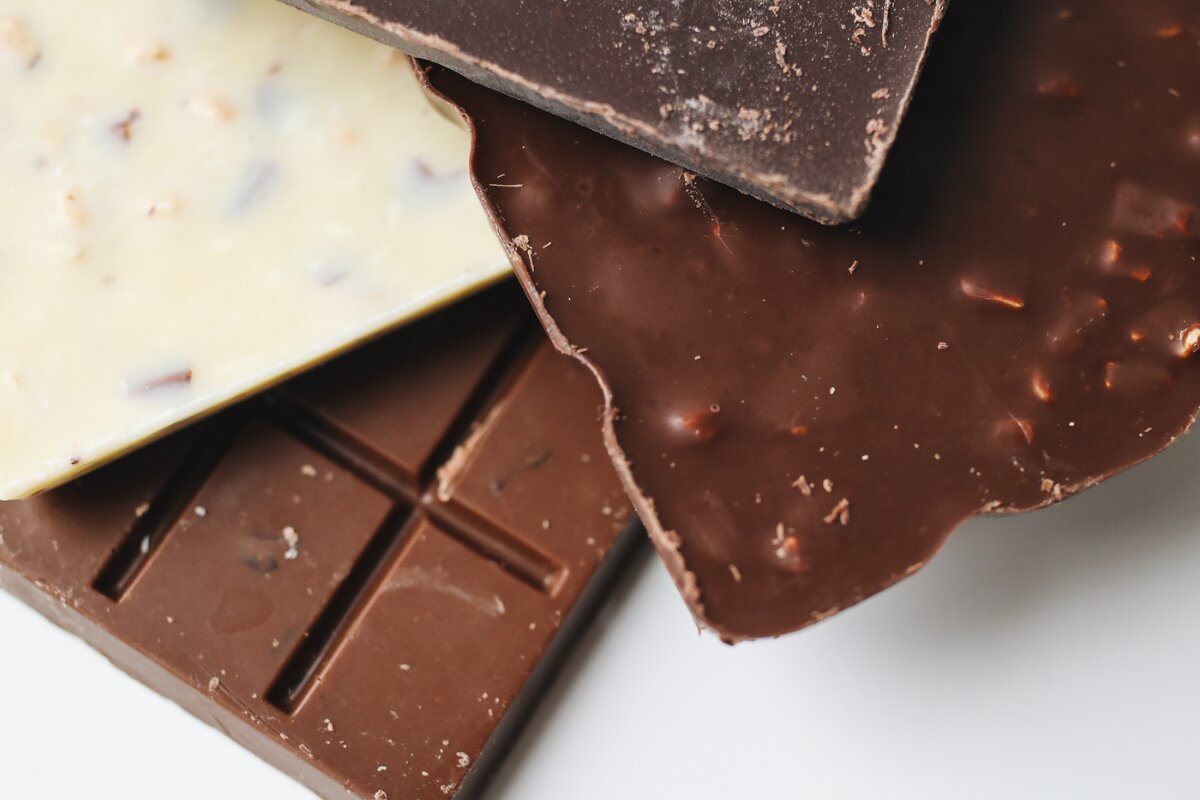 Choosing the right type of chocolate for a charcuterie board is essential to creating a delicious and visually appealing display. Here are some of the best types of chocolate to include on a board:
Dark chocolate: Has a higher percentage of cocoa solids than milk or white chocolate and has a more intense flavor. Look for dark chocolate with a cocoa percentage of 70% or higher, as it has more health benefits and pairs well with a variety of fruits, nuts, and other toppings.
Milk chocolate: Milk chocolate has a smoother texture than dark chocolate and a milder, sweeter flavor. It's a popular choice for those who prefer a less intense chocolate experience, and it pairs well with fruits like strawberries and bananas.
White chocolate: White chocolate makes a great addition to a chocolate charcuterie board. It's creamy texture and sweet flavor make it a great pairing for fruits like raspberries and blueberries.
Ruby chocolate:  Adding ruby chocolate to a chocolate charcuterie board can be a great way to add some color and variety to the display. The fruitiness of the ruby chocolate pairs well with strawberries, raspberries, and walnuts.
Flavored chocolate:  To spice up your chocolate charcuterie board, consider adding flavored chocolates such as mint chocolate, orange chocolate, or even chili chocolate.
You can buy chocolate bars and break them up for a rustic look or choose chocolate callets or wafers if you want more consistent shapes.
The type of chocolate you choose will depend on your personal preference and what best fits with the overall theme of your board. Be creative and have fun with it!
5 IDEAS FOR DELICIOUS CHOCOLATE CHARCUTERIE BOARDS
Movie Night Chocolate Charcuterie Board
This movie board is perfect for snacking while watching your favorite films at home. It can include classic movie snacks like popcorn, pretzels, and potato chips as well as boxed chocolate candies and frozen chocolate ice cream bites. Milk chocolate and salted caramel chocolates are great options for this board.
Kid-Friendly Chocolate Charcuterie Board: 
This chocolate candy board is a great way to add some fun to your next kid's party. Include bite-sized chocolate treats like chocolate-covered raisins, M&Ms, and chocolate-covered pretzels. You can also include some fruits like grapes and mandarin oranges. Milk chocolate and white chocolate are great options for kids since it is less bitter. 
Date Night Chocolate Charcuterie Board: 
This is the perfect board for a romantic and indulgent date night at home. Include decadent treats like chocolate truffles, chocolate-covered strawberries and almonds. Dark chocolate and ruby chocolate are great options.  Add a few edible flowers for that romantic touch.
Holiday Chocolate Charcuterie Board
As the name suggests, this board is a perfect option for holidays like Valentine's Day, Easter, or Christmas. It can include heart-shaped chocolates, chocolate Easter eggs, and chocolate-covered peppermint candies. Any kind of chocolate will work well on the board, play around with the theme.  Add candy canes, fresh mint leaves and rose petals for that special touch.
And there you go! Five great ideas for you to make a chocolate charcuterie board at home, whether you're planning a romantic date night or a fun movie night with friends. We encourage you to get creative with your chocolate choices and toppings, and then impress your guests with your presentation skills.
If you have any questions or comments, feel free to contact us through our social media channels.  We are @cocoterra_co on Instagram and Pinterest and @cocoterraco on Twitter and Facebook.