In case the picture above is not convincing enough, let us express this in writing! Today, we are sharing the most delicious dark chocolate passionfruit cheesecake recipe on the planet. This dessert is creamy, light, and full of chocolate flavor. Passion fruit adds a tropical taste that will have you dreaming of being on vacation.
And not only is it delicious, it's also very easy to make and perfect for any occasion.
What is a cheesecake?
One of the most popular desserts in the United States, cheesecake comes in a variety of styles and flavors. The main ingredient is, of course, cheese—usually a soft variety such as cream cheese, ricotta, or cottage cheese. Eggs and sugar are added to the mixture. Then a crust is made using crushed cookies (often graham crackers) which are pressed into the bottom of the cake pan before pouring in the filling. If it's not a baked cheesecake recipe, then the cheesecake is refrigerated until it sets up before being served cold.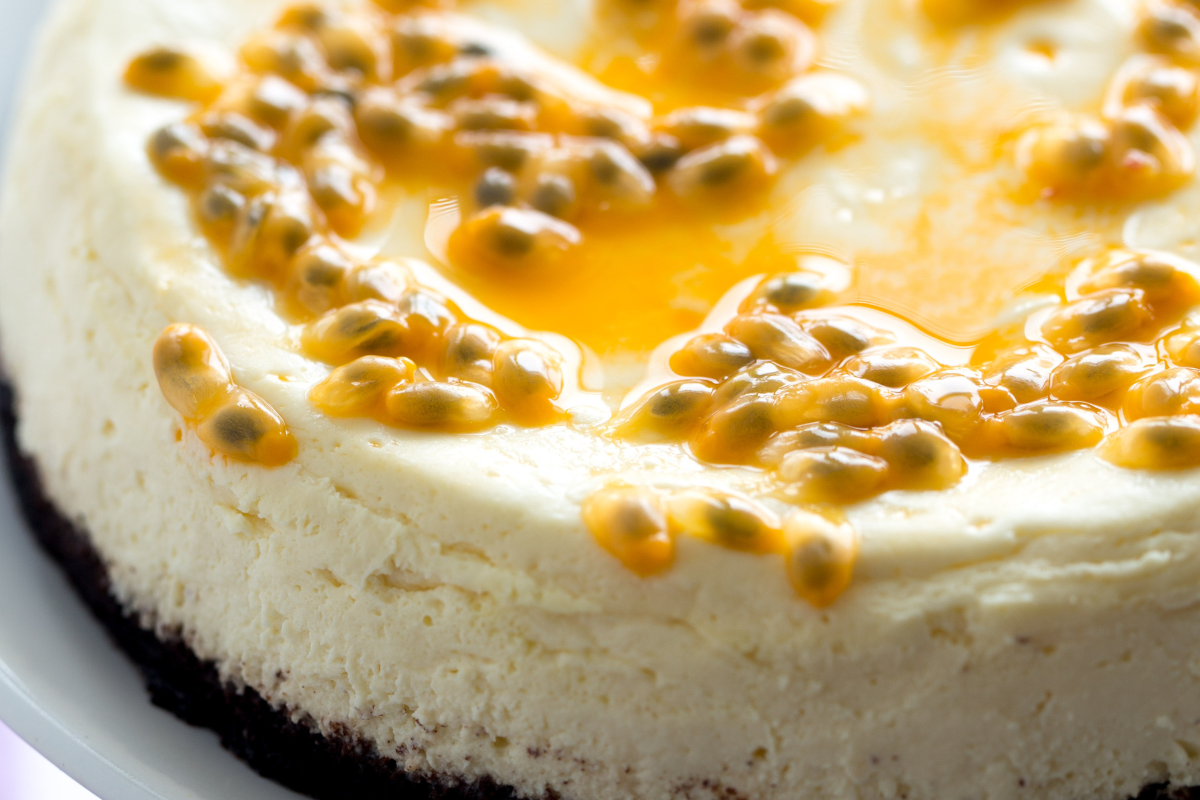 Dark chocolate passion fruit cheesecake
We know you're going to love this recipe. It's rich yet fresh, super chocolaty, and perfect for any occasion. If you're looking for a surprise for friends and family, make sure to try this out. Note: If passion fruit isn't available in your area, you could instead top the cheesecake with a winter fruit alternative like delicious poached pears, apples, or citrus fruits.
Hope you enjoy the recipe!
Ingredients
Crust
1 1/2 cups oreo cookie crumbs — about 20 cookies
3 tbsp melted butter
3 tbsp milk
½ cup melted dark chocolate
Filling
4 packages of Philadelphia Cream Cheese (brought to room temperature)
2 Tbsp vanilla extract
1¼ cups of sugar
5 eggs + 3 egg yolks (brought to room temperature)
1 cup of sour cream
Topping
Passionfruit pulp (from 5 fruits)
½ cup of sugar
2 Tbsp of cornstarch
3 Tbsp of water
Method
Crust
Line the inside bottom of a 9-inch springform pan with parchment paper; then wrap the outside of the pan in foil.
Crush Oreo cookies (filling should not be removed) in a food processor and then transfer to a mixing bowl.
Add melted butter and melted dark chocolate and mix until combined.
Press mixture into the bottom of the springform pan.
Refrigerate for 20 minutes
Filling
Pre-heat oven to 340 degrees Fahrenheit.
In a stand mixer with the paddle attachment, beat the cream cheese until smooth.
Add the vanilla and sugar and beat for 30 seconds.
Add eggs, and beat gently until just combined
Add the sour cream and beat gently until just combined.
Pour the filling mixture into the prepared springform pan (wrapped in foil).
Place the foil-wrapped cake pan onto a large baking tray and place in the oven.
Gently pour boiling water into the tray until it reaches roughly halfway up the cake pan.
Push the tray into the oven and bake for 1 hour and 10 minutes.
Once the cheesecake is baked, turn the oven off and leave the cheesecake in the oven with the door closed for 30 more minutes.
Remove the cheesecake from the oven.
Let it cool at room temperature for 1 hour.
Once cool, place in the fridge to set overnight.
Topping
Cook the passion fruit pulp for two minutes in a saucepan. Add sugar and let the mixture boil.
In a small bowl, combine cornstarch with water, then stir until a smooth liquid paste forms.
Add your cornstarch mixture to the passion fruit, and stir until it thickens.
Let the mixture chill in the fridge for a couple of hours.
To Assemble
Remove the cheesecake from the spring form pan and place it onto a serving plate.
Add the passion fruit topping on top of the cheesecake.
Serve and enjoy!