If you're a fan of dark chocolate, this recipe is for you! This rich, decadent pudding will satisfy your cravings for something sweet and chocolaty. Dark chocolate adds depth and richness to this dessert, creating a treat that will leave you wanting more. Top it with whipped cream and chocolate shavings for an extra touch of decadence. This pudding is perfect for chocolate lovers who want a delicious and easy dessert to enjoy at home. So grab a spoon and get ready to indulge in this velvety dessert!
What is dark chocolate pudding?
Dark chocolate pudding is a rich and creamy dessert made with dark chocolate, milk, sugar, and cornstarch. Simply combine all the ingredients in a saucepan and cook over low heat until the mixture thickens into a smooth and velvety pudding.  That's it!
Dark chocolate pudding recipe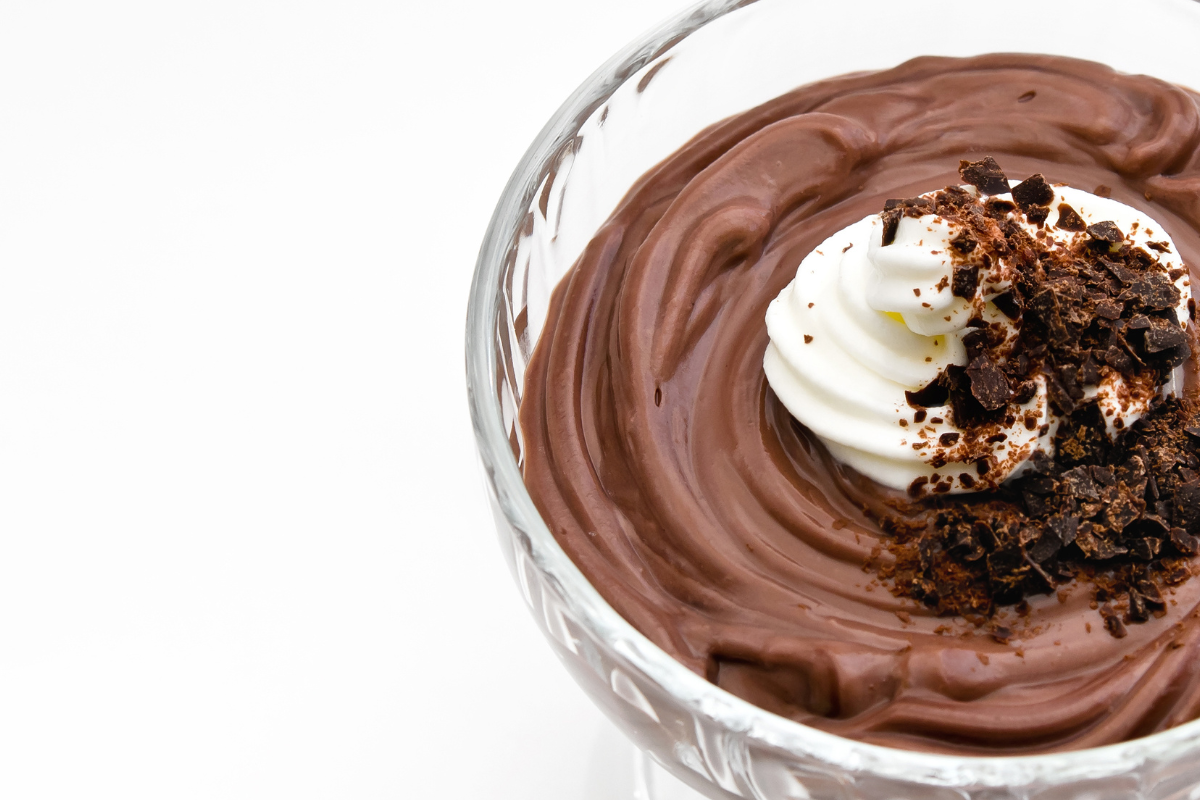 If you're like us, you can't resist a good chocolate dessert. This dark chocolate pudding takes only minutes to prepare, and it tastes amazing. It's made with milk, cornstarch and high-quality dark chocolate. You can make it ahead in a large batch and keep it in the fridge, so you can enjoy this delicious dessert any time you have a chocolate craving. To save leftover pudding, cover it with cling wrap and keep it in the fridge for up to 3 days.
Ingredients
Pudding
10 oz (300g) dark chocolate (70 -75% cacao)

1 ½ teaspoons cornstarch 

2 cup (16oz / 480g) whole Milk 

½ teaspoons salt

2 teaspoons vanilla extract

4 teaspoons water
Whipped cream
1 cup (240ml)

cold

heavy cream 

2 tablespoons powdered sugar

1 teaspoon vanilla extract
Method – Pudding 
In a medium-sized saucepan, warm the milk and dark chocolate over medium heat until the chocolate melts.

In a small bowl, mix the cornstarch with 4 teaspoons of water together to form a liquid paste.

Whisk the cornstarch mixture into the melted milk-chocolate, whisking constantly until the mixture is thick and smooth.

Bring the mixture to a very low simmer for about 2-3 minutes, until the cornstarch has cooked out.

Whisk in the vanilla extract and salt.

Set aside to cool down. Serve with whipped cream on top.
Method – Whipped cream
Using a hand mixer or a stand mixer fitted with a whisk attachment, whip the

cold

heavy cream, powder sugar, and vanilla extract on medium-high speed until medium peaks form, about 2 minutes. Be careful not to over-whip the cream, as it could curdle or turn to butter.

Spoon on top of individual portions of the pudding or cover tightly and chill in the refrigerator for up to 24 hours. 
If you want to jazz it up a bit, check out this blog post on how to make chocolate shavings! We also show you a simple technique for making chocolate curls and chocolate shavings using a vegetable peeler.
We hope you enjoyed this article. For more great recipes, check out the rest of our CocoTerra blog. 
If you have any questions or comments, feel free to contact us through our social media channels.  We are @cocoterra_co on Instagram and Pinterest and @cocoterraco on Twitter and Facebook.