Who doesn't love a big scoop of ice cream? And what's better than having that ice cream covered with some chocolate toppings like curls, chunks, shavings, shells and chocolate sauce?  So here are some chocolate toppings to make your ice cream taste even more delicious.
It's a fun, easy and delicious process – and nothing beats homemade! We've got you crunchy, super creamy, chocolate y topping – With less than 3 ingredients and no special equipment needed.
The hardest part is getting the ice cream out of the box! The topping is all chocolate, so it's a chocolate lover's dream…now YOU just have to try it. It's so much fun to experiment with different chocolate toppings. You can make thin curls, wide curls, spiral curls, "C" curls, tiny shavings, chunks, shells and even chocolate sauce.
Curling the chocolate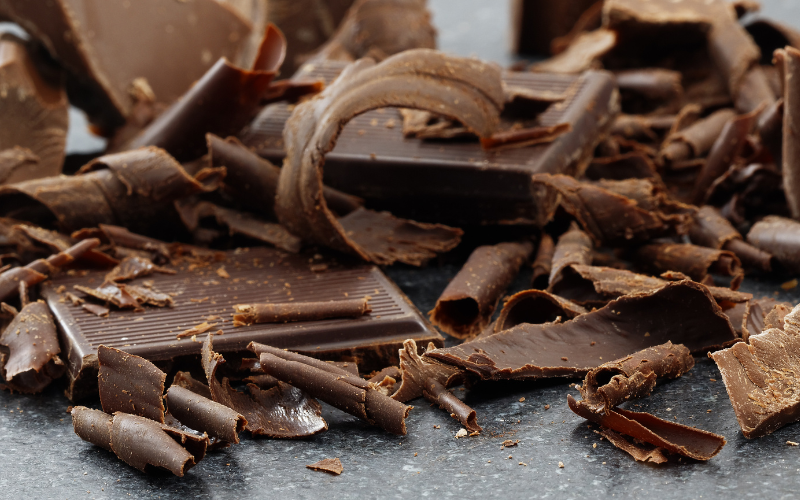 Chocolate toppings can add a lot of texture and flavor to your ice cream. You can turn a simple bowl of ice cream into a spectacular dessert just by adding a little touch.
Here we'll show you a simple technique for making chocolate curls and chocolate shavings using a vegetable peeler. That's right, no special equipment is needed.
To make a curl, use a standard vegetable peeler on a room temperature milk, white or dark chocolate bar or CocoTerra rings (without nuts).
Gently peel the strips from the bar or ring, turning as the chocolate warms in your hands. If your hands are cold or unable to peel strips from the bar or ring, consider placing the chocolate bar or ring in the microwave for 10 seconds – WARNING! Only 10 seconds.
The best type of chocolate for making curles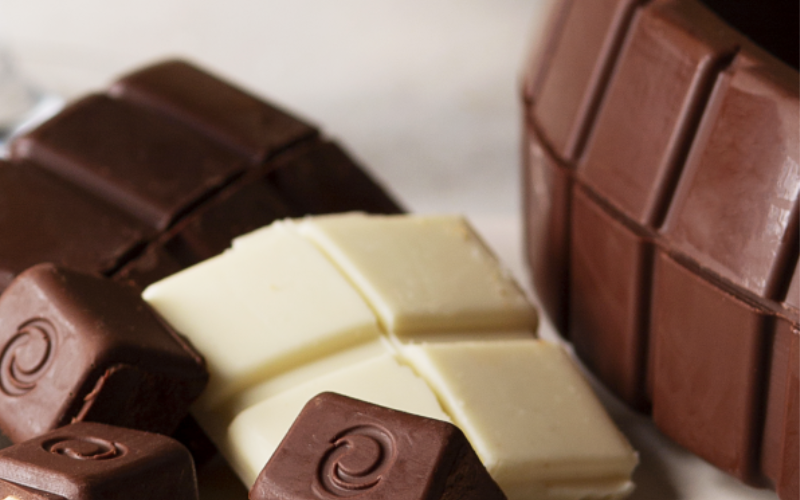 The key to delicious chocolate toppings for your ice cream is to use high-quality chocolate.
Whether you make chocolate from scratch or buy chocolate bars from your local supermarket, make sure the ingredients are high quality, single origin and without artificially added flavors, we suggest chocolate bean to bar  rather than commercial brands of chocolate.
Let's melt chocolate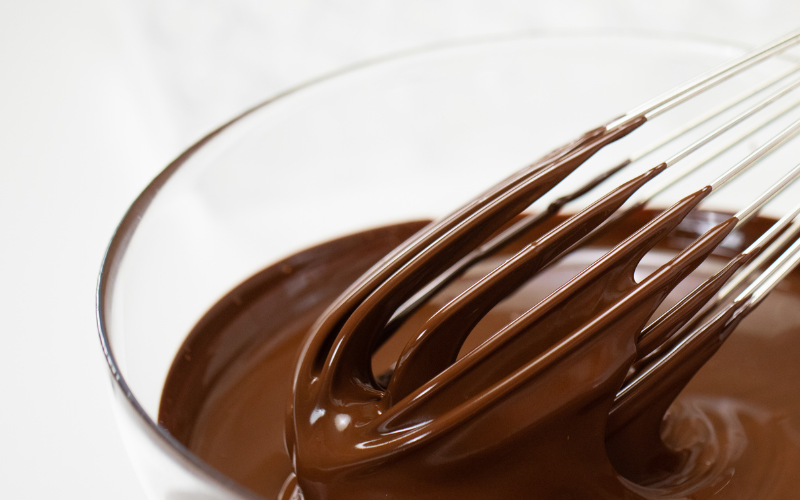 Before melting the chocolate, let's understand the importance of tempering. Tempering is the key to success because it provides the snap when the chocolate breaks and the shiny surface. Without tempering, the chocolate would be softer and more malleable and have a dull appearance.
The trick is to control the temperature before and during cooling by a few degrees to maximize the amount of stable crystals in the chocolate.
The best melting technique for making any chocolate topping is definitely the microwave method, it's super easy and fast.
Here are the step-by-step instructions.
Chop your chocolate into small pieces.
Place ⅔ of the chocolate in a dry, microwave-safe bowl.
Microwave the chocolate in 15-second intervals, stirring with a spatula after each blast.
Continue until all the chocolate is just melted (don't be tempted to heat for longer intervals as the chocolate might burn).
Finish by pouring the remaining chocolate into the bowl and stir until all the pieces have melted..
Stir regularly so that the chocolate cools to about (milk chocolate 84°F – 86°F /  29°C – 30°C) ( White chocolate 82°F – 84°F / 28°C – 29°C) (Dark chocolate 88°F (31°C) – 90°F (32°C).
Pour the chocolate mixture into your favorite mold or parchment   paper.
Tap the mold on the countertop to release air bubbles or spread the chocolate in a thin layer on parchment paper.
Set in the fridge for 30 minutes.
Once set, remove from the fridge and remove the chocolate from the mold or parchment paper.
THE FUN PART- Create  chocolate toppings
Eat and enjoy!
Chocolate hard shell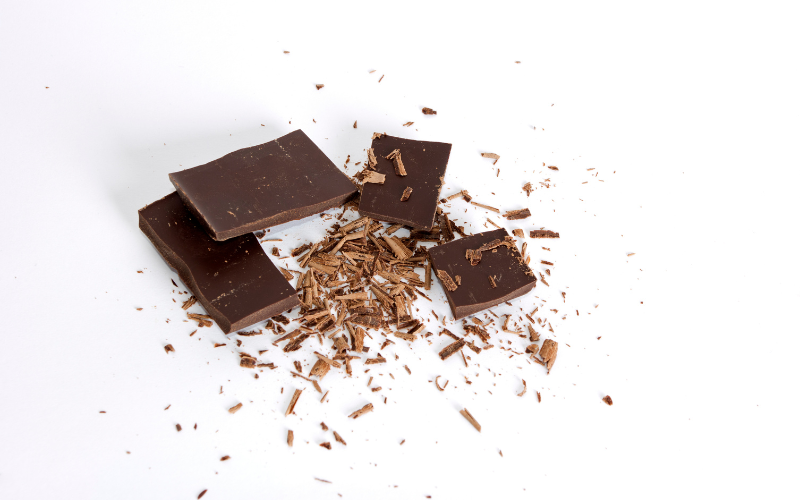 Here is a delicious chocolate shell topping recipe for ice cream made in less than 10 minutes with only two ingredients (70% dark chocolate and coconut oil).
Ingredients
6 ounces / 170g  100% dark chocolate
1/3 cup coconut oil
Method
Combine dark chocolate and coconut oil in a microwave-safe bowl; heat in the microwave the chocolate in 15-second intervals, stirring with a spatula after each blast.
Continue until all the chocolate is just melted (don't be tempted to heat for longer intervals as the chocolate might burn).
Once melted, stir until it's fully mixed together.
Allow the chocolate to cool for at least 10 minutes before pouring over the chocolate.
Tips for making a good chocolate shell
You can use any oil that is unflavored or has a flavor that is compatible with chocolate and your ice cream – canola or soy works well, but coconut oil makes the flavor more intense and makes it a little crunchier.
Add more oil for a thinner, crispier shell; add less for a thicker shell.
Chocolate sauce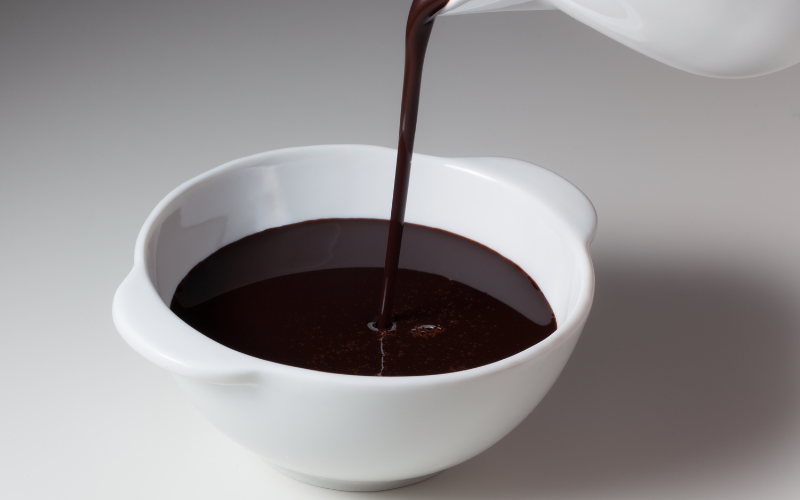 You only need a few ingredients to make this Homemade Chocolate Sauce and it tastes better than any chocolate syrup you can buy at the store. Smooth, sweet and incredibly chocolatey.
Just sugar, cocoa powder and water. A pinch of salt and a little touch of vanilla top it off perfectly.
Ingredients
1/2 cup unsweetened cocoa powder
1 cup sugar
1/2 cup cold water
1  teaspoon vanilla
1/8 teaspoon salt
Method
In a saucepan, whisk the cocoa and sugar until all lumps are eliminated. Add the salt and water and bring to a boil over medium to medium-high heat.
Reduce to a simmer; stir constantly. Simmer for about 30 seconds and remove from heat. Let cool and add vanilla.
Pour into a glass jar and refrigerate until needed.
Enjoy!
And just like that,  now you have several ways to top your favorite ice cream with simple but delicious chocolate toppings. We hope we have been able to inspire and motivate you to make more chocolate stuff at home. Make sure to share your creations with us on social media by tagging @cocoterra_co! We would love to see how they turned out!