As spring draws near, let's get inspired by the coming change in season and try a fun technique using colored cocoa butter to brighten up your chocolate creations.
In a previous post, we talked about some of the more commonly used chocolate molds and how to prepare them for the best results. Now that you've chosen your molds and buffed them to a perfect shine, it's time to add some color!
In this post, we'll share some tips on coloring your cocoa butter to create beautiful and colorful chocolates. 
What is cocoa butter?
Cocoa butter is a pale-yellow, edible fat extracted from the cocoa bean. It's used to make chocolate as well as some ointments, toiletries, and pharmaceuticals.  Natural cocoa butter has a mild cocoa flavor and aroma. There is also "deodorized" cocoa butter which has been treated to remove any residual flavor and aroma.  Cocoa butter is a solid at room temperature, but liquid when heated slightly.  Its melting point is slightly below human body temperature which is why it melts so wonderfully in your mouth. We have a more in-depth article on cocoa butter. Check it out!
Colored cocoa butter
Colored cocoa butter is an essential tool for many chocolatiers to add a creative and colorful flair to their chocolates. These FDA-approved edible cocoa butters can even be used in a spray gun to decorate and color your chocolate molds. You can also use them to paint by hand directly into molds, or onto finished (tempered) chocolate.
For those who are just getting started, we highly recommend that you start by purchasing pre-mixed, colored cocoa butter.  This way you get to focus on the design without having to worry about the fabrication.  However, you may not always find pre-made cocoa butter colors that match your needs.  In this case, try mixing two or more pre-made colors to produce custom colors of your choosing.  With a little mixing practice, the rainbow of colors is at your finger tips.
If you want to buy pre-mixed, colored cocoa butter, check out the following retailers:
Perhaps pre-made colors aren't available where you are or you just can't find the exact color that you want, in which case you can make your own colors with a few basic ingredients, like cocoa butter and fat-soluble/oil-based powdered colorant.
Picking the right color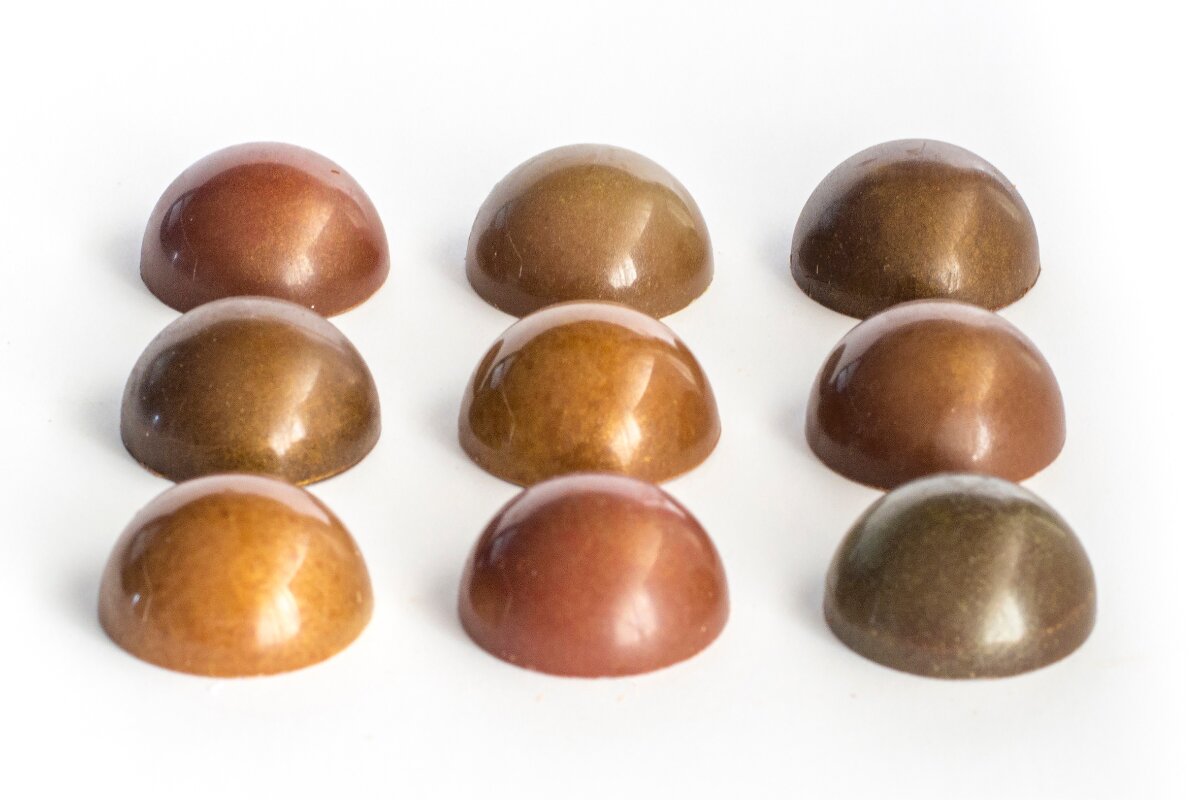 Depending on the type of chocolate you will be working with, such as white milk or dark, some colors will show better than others.  Your chocolate will be the canvas for your artistic creation, so make sure you take your background color into account before making a purchase decision.  
Bright colors work best with white chocolate, producing a vibrant and eye-catching effect. The silver and gold colors give a dramatic effect when brushed or spattered onto milk or dark chocolate. White is particularly useful for mixing with other colors to produce opaque colors
What you need to make colored cocoa butter
To create colored cocoa butter, you need to begin with the most important ingredient: a fat-soluble/oil-based food-grade powder. You can use either a natural or chemical process to add color to your cocoa butter. It's important to examine both methods when producing colored cocoa butter.
What is food colorant (oil based)?
Food coloring comes in either water-based or oil-based. Since we are working with cocoa butter, only the oil-based colorings will work.  These oil-based food colorings have a higher concentration of pigments, so only small amounts are needed to get bright results. It is suitable for frostings, icings, ganaches, glazes, and chocolate. 
The fat-soluble food coloring will provide the best results for your finished chocolates, aesthetically, but more importantly, for shelf-life. These powders come in your standard colors and are concentrated, odor-free, tasteless, and dissolve easily in fat. 
The pigments of the oil-based food coloring dissolve in the fats instead of water, so be sure to purchase the correct type. This means that you can always use oil-based food coloring without mixing it with other ingredients that might react to it. As a side note for the bakers out there, if you don't want the colors on your baked goods to fade away in the oven, it's best to use paste or gel versions instead of liquid.
NOTE: Fat-soluble food coloring It's highly concentrated and should be used as directed.
How to make colored cocoa butter at home
You'll need a few pieces of equipment to make colored cocoa butter at home.
These include the following, for best results:
Digital scale – If you make any chocolate or baked goods, a digital scale is a great tool to have.

Pocket scale –  An accurate scale for weighing lighter ingredients, such as colored powder, that sometimes won't register on other scales.

Immersion Blender – To ensure the mixture is optimally emulsified.

Fine strainer – Used to sift the powder colors.
Once you have these items, you are ready to make colored cocoa butter to add a little POP to your chocolate!
Ingredients
100-gram cocoa butter 

10 grams of fat-soluble powder colorant
Method:
 

Melt cocoa butter

in a microwave or double boiler over low heat. 

Remove from the heat when almost melted to avoid overheating. Stir gently to melt any remaining solids. 

Add the powder color to the melted cocoa butter by passing it through a fine strainer. 

Stir to combine, then use an immersion blender to emulsify the mixture. 

Pass the mixture through a clean sieve to remove any residual solids.

Allow the mixture to cool and set, typically 12 hours. 

When ready to use, temper the cocoa butter and keep it at a working temperature between 87.8 °F – 91.4°F while decorating. You can also simply heat the cocoa butter to 87.8 °F  but you will get better, more consistent results with better shine if you temper first. 
We hope this post will get you started on your journey to becoming a chocolate expert. If you're new to colored cocoa butter techniques, it may seem challenging at first, but with knowledge and experience, you will master them.
Color your CocoTerra mold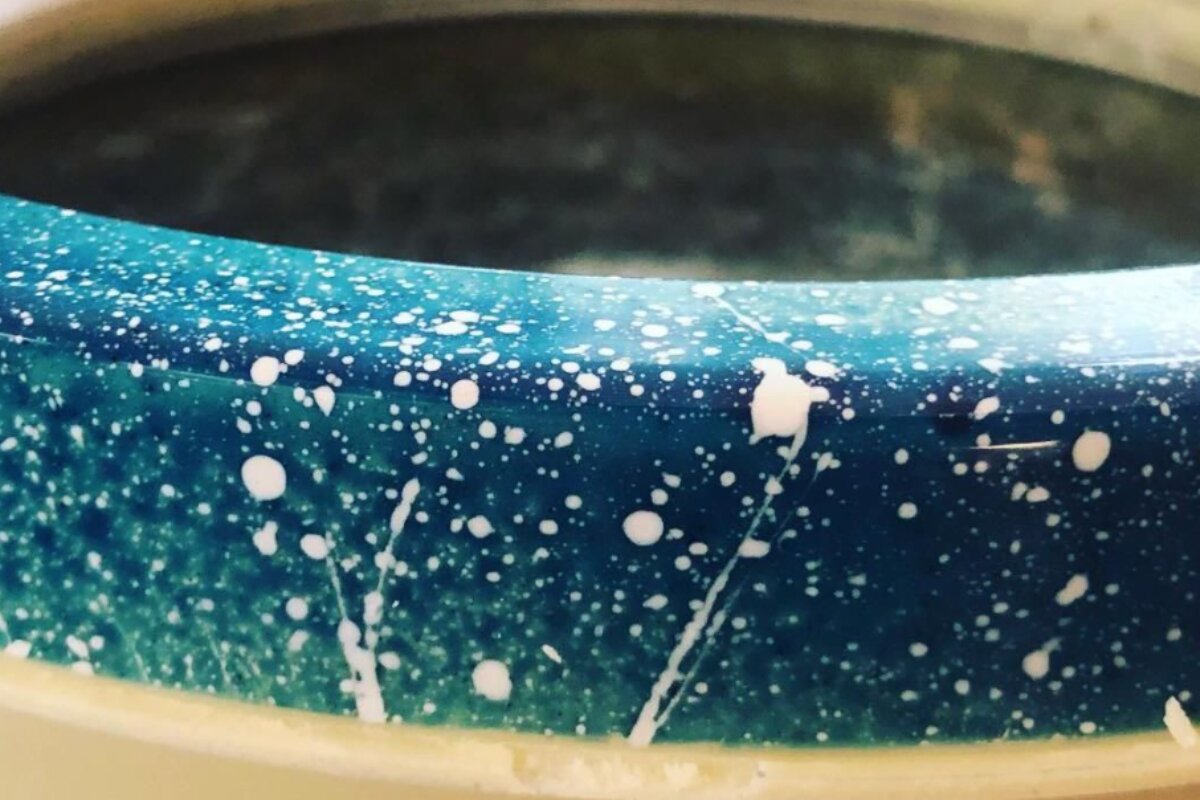 For those who were wondering, you will be able to use this same technique with your CocoTerra molds.  You can easily hand-paint or spray your mold to create custom chocolate rings.  This adds another layer of personalization that's fun for the whole family.  Here's an example of a hand-decorated chocolate ring that was created by a friend of CocoTerra:
If you have any questions or comments, feel free to contact us through our social media channels.  We are @cocoterra_co on Instagram and Pinterest and @cocoterraco on Twitter and Facebook.