Is there such a thing as healthy brownies? If so, sign us up! Here's a brownie recipe that just might make you a believer.
You have probably tried a lot of different brownie recipes over the years, and maybe you already have a favorite recipe. However, we are quite sure that this recipe will make it to the top of your list. Read on to find out how we created a "healthy" homemade protein brownie recipe that is also rich, decadent, fudgy, and tastes delicious! 
These homemade brownies are so good you won't be able to resist sneaking one at breakfast! And they're packed with protein and healthy ingredients so you can feel good about indulging in a little treat.
High protein brownies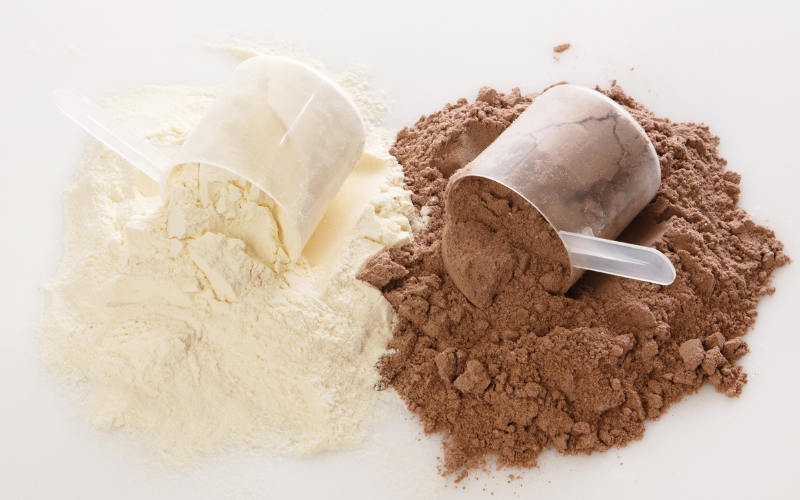 What's nice is that you can whip up these homemade protein brownies in just one bowl. This recipe makes 16 brownies and each brownie has 7 grams of protein (this will likely vary depending on the protein powder you use).
They're a great healthy snack that also tastes indulgent. 
What is protein and why is it important to our bodies?
Protein is one of the three macronutrients necessary for our body's functions (along with fat and carbohydrates). Protein is necessary for building and maintaining a variety of your body's organs and systems. It helps build bones, muscles, and tissues, and also keeps them all functioning properly. Also, protein helps you feel full and satisfied by reducing  cravings so you can maintain a healthy weight.
Here's an overview of what you will need for this recipe:
Peanut or almond butter – check the ingredient label to make sure the only ingredient is peanuts or almonds. 

Eggs – you can substitute eggs with applesauce for a vegan version.

Maple syrup – a natural sweetener, but be sure to use pure maple syrup and not the artificially flavored stuff labeled "pancake syrup".

Unsweetened oat milk –  feel free to use any non-dairy milk.

Vanilla extract – used as a flavor enhancer. 

Chocolate protein powder – any good quality chocolate protein powder works. 

Cocoa powder –make sure you're using unsweetened cocoa powder. 

Sea salt – for extra flavor. 

Baking powder – to help the brownies rise.

Chocolate chips – we recommend dark chocolate chips. 

Walnuts – for extra flavor and crunchiness. 
How to make Homemade chocolate protein brownies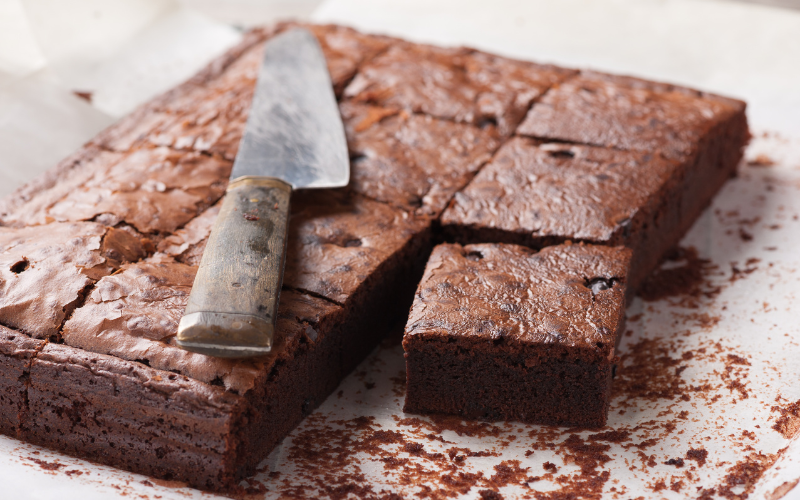 Ingredients 
1 cup peanut butter

2 large eggs

½ cup pure maple syrup

¼ cup unsweetened oat milk

1 teaspoon vanilla extract

½ cup chocolate protein powder

¼ cup cocoa powder

¼ teaspoon sea salt

1 teaspoon baking powder

½ cup chocolate chips, plus more for topping

½ cup chopped walnuts 
Method 
​​Preheat the oven to 350°F (177°C). 

Grease an 8×8-inch baking pan or line it with parchment paper. 

In a large mixing bowl, whisk together almond butter, eggs, maple syrup, almond milk and vanilla extract.

Add protein powder, cocoa powder, sea salt and baking powder into the mixing bowl and stir until just combined. 

Gently fold in chocolate chips and walnuts. 

Transfer the mixture to the prepared pan. 

Bake for 25-30 minutes or until brownies are set in the center and a toothpick comes out clean.

Let the brownies cool completely before cutting them into squares. 

Enjoy!