In recent years, your classic chocolate chip cookie got a lot more complicated or should we say sophisticated — in the best of ways. Many chocolate chip cookies have moved on from the traditional chocolate "chip" to include a variety of different chocolate inclusions.  So, if you're not sure whether you prefer chocolate chips or chocolate chunks in your cookies, you're in the right place. Read on and learn the difference between chocolate chunks and chocolate chips and how this affects the traditional chocolate "chip" cookie.
Chocolate chips cookies
Chocolate chip cookies are the ultimate sweet treat. There are many variations of the recipe, which usually starts with a dough made from flour, butter, brown and white sugar, eggs, vanilla and semisweet chocolate chips.  The "chocolate chocolate chip" version of the cookie uses dough flavored with chocolate or cocoa powder in addition to adding chocolate chips to the mixture. This type of cookie is also called a double or triple chocolate chip cookie, depending on the combination of dough and chocolate types used.
Chocolate chip cookies have their origins in the United States. Back in 1938, a woman named Ruth Graves Wakefield was working at the Toll House Inn in Whitman, Massachusetts, a popular comfort food restaurant. In telling the origin story, Ruth clearly remembers the invention of the chocolate chip cookie. "We had been serving a thin butterscotch nut cookie with ice cream. Everyone seemed to like it, but I was trying to give them something different," she explains.  She added bits of a Nestlé semisweet chocolate bar to the cookie dough and baked it. And, of course, the rest is history.  Thank you, Ruth!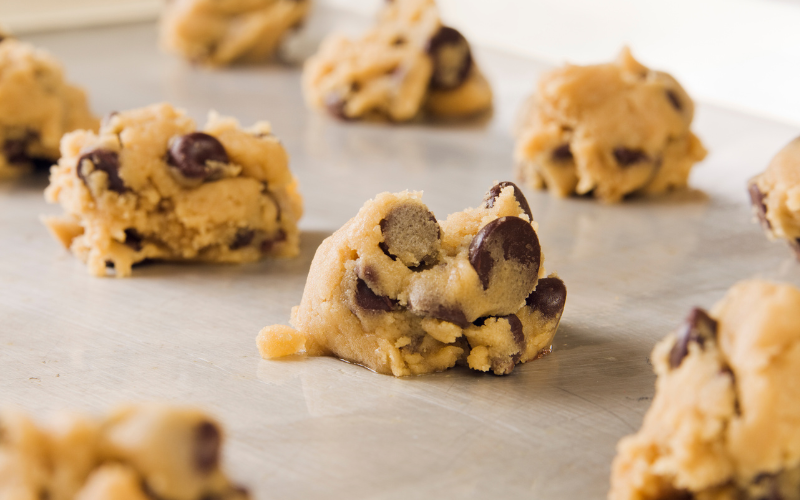 In our expert opinion, the classic chocolate chip cookie is one of the most delicious creations known to man. No one can resist its soft, chewy center, its melty chocolate chips or the crunchy crust on the outside.
But what exactly defines a classic chocolate chip cookie? Without a doubt, one of the most important elements is CHOCOLATE.  In a chocolate chip cookie, chocolate serves a dual function. It provides extra fat to the recipe and then also contributes to the overall structure of the cookie (the shape of the chocolate helps to support the dough as it bakes).
The difference between chocolate chips and chocolate chunks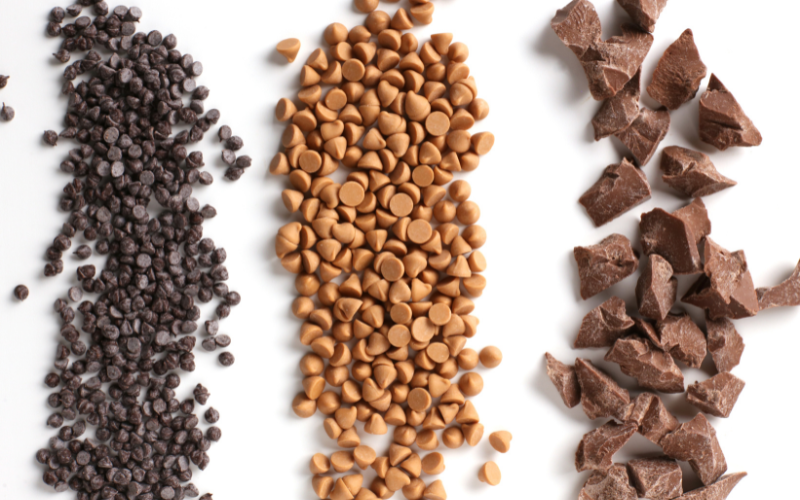 Chocolate chips
One unusual characteristic of chocolate chips that you might not have noticed is that chocolate chips keep their shape when baked. It's true!  Check it out the next time you bake chocolate chip cookies.  This is because they have less cocoa butter than eating chocolate (chocolate bars and chunks), which allows them to maintain their shape. As they heat up, they don't melt into the cookie dough, so the dough stays more crisp.  They also help the cookie keep its shape (resulting in a  thicker cookie).  Chocolate chips also tend to work better in smaller cookies.
Types of chocolate chips
Originally, chocolate chips were made of semisweet chocolate, but today there are many different flavors. Among them are bittersweet, peanut butter, butterscotch, peppermint, milk, and white and dark chocolate.  You may also find chips that come in different sizes.  When making your next batch of cookies, experiment a little and see what you like best.
Of course, chocolate chips are not limited to the realm of cookies.  They can be used in pancakes, waffles, cakes, cupcakes, muffins, crepes, pies, hot chocolate and various pastries. They are also found in many retail products, such as granola bars, ice cream and trail mix.
Baking and melting chocolate chips 
Chocolate chips can also be melted and used in sauces and other recipes. The chips melt best at temperatures between 104 and 113 °F (40 and 45 °C). The melting process begins at 90 °F (32 °C) when the cocoa butter in the chips begins to melt. The cooking temperature should never exceed 115 °F (46 °C) for milk and white chocolate and 120 °F (49 °C) for dark chocolate or the chocolate may burn.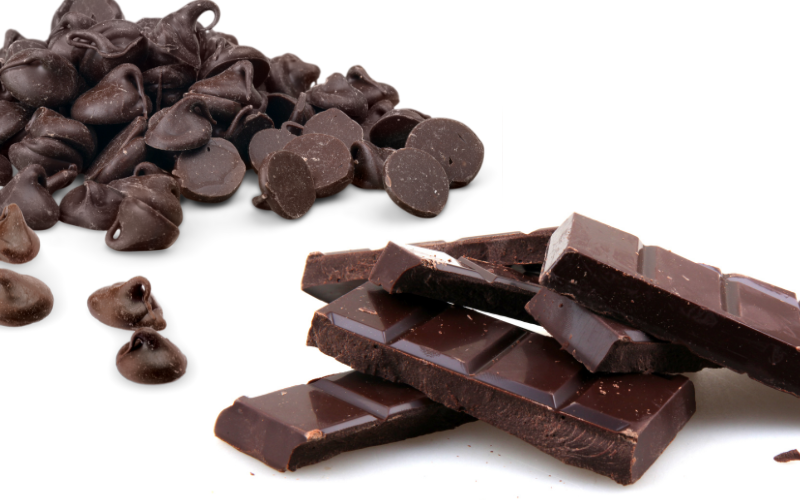 Chocolate chunks 
Chocolate chunks are generally made from higher-quality chocolate.  They have higher cocoa butter content which means they will melt much faster in the oven.  The faster melt creates flatter, gooier cookies with less crunch than regular chocolate chip cookies. The fat from the chocolate chunks mixes with the dough keeping it more soft. Plus, by having different-sized chocolate chunks, you'll get a different experience in each bite, so your cookies will be more dynamic.
How to make chocolate chunks at home
You can easily make your own dark chocolate chunks at home. To do this, chop your favorite chocolate bar into small pieces with a serrated knife (like a bread knife). And yes, it's important to use a serrated knife.  If you cut chocolate with a non-serrated knife, pieces of chocolate will be flying all over your kitchen.  Just carefully run the knife down and back and forth, creating chunks.  And don't worry about separating the chocolate chunks from any chocolate dust that results from the cutting process.  The chocolate dust will add extra chocolate flavor to your cookies.
Another way to make chocolate chunks is to place a chocolate bar in a plastic bag and freeze it for a few minutes. Then break the bar apart with a rolling pin, meat tenderizer or the back of a spoon. Keep smashing until you are satisfied with the overall size of the pieces.  You will get pieces of different sizes, which is what you want.
Although convenient, melted chocolate chips are not always recommended as a substitute for baking chocolate. As mentioned, chocolate chips contain less cocoa butter than baking chocolate, so they can be more difficult to work with in melted form.
If you're looking for a crunchy cookie, chocolate chips are the way to go; if you want something that is more visually rustic with a gooey interior, opt for chunks.  Of course, baking time is also a key factor in determining how gooey or crunchy your cookies will be. The longer you bake the cookie, the crunchier it will get.  Now that you are armed with all this information, you will have better control over your cookie-making journey.